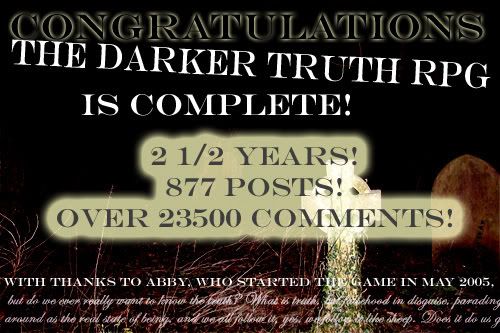 Well guys... that's it, we've done it. The history page and overveiws are all updated and I've plastered this banner everywhere. It's over!
You can continue to thread and complete all the unfinished threads you like, but the main community is no longer accepting new posts. You've had ample time to start one if you needed one!
Anyway, congratulations everyone. It's been a blast being your mod for the last... oh, year and a half!!?? and also being your Neville, Harry, Justin, Dumbledore and Voldemort (not necessarily in that order). But it's time to move on to bigger (but not necessarily better) things.
If anyone is at a loss for new RPGs to join, I suggest browsing
thedressingroom
for your area of interest, or you can of course contact me and your co-mod Esther to ask about the games that we're in or could direct you to.
Well done again everyone, and thank you.
Your Mod, Andy.